By: Sebra Yen |
Since the severing of official diplomatic ties between the United States and the Republic of China (Taiwan) in 1979, U.S. policy towards Taiwan has stayed relatively consistent throughout the past six administrations by adhering to the Taiwan Relations Act (TRA) and President Reagan's "Six Assurances."  Although the TRA continues commercial, cultural, and public exchanges under a de facto relationship, significant gaps remain. Much more can be done to strengthen the partnership between the U.S. and Taiwan.
The world has increasingly become more interconnected. However, Taiwan continues to be pushed out of the international community. Recently, Taiwan was excluded from the International Civil Aviation Organization (ICAO), the International Criminal Police Organization (Interpol), and a U.N.-affiliated meeting in New York on rare diseases. The United States should consider deepening its exchanges with Taiwan. Public diplomacy efforts are inextricably linked with American national security. As such, the U.S. should place greater emphasis on its people-to-people exchanges with Taiwan.
At a time when the People's Republic of China (PRC) exhibits increasingly assertive behavior in the South China Sea and East China Sea, the U.S. and its Asia-Pacific allies should highlight the positive role Taiwan plays in the regional architecture. U.S. strategy toward the region has taken a multifaceted approach that seeks to strengthen cooperation with like-minded nations to address shared challenges. In addition to commercial engagement, expanding people-to-people ties are essential for fostering goodwill and unity with our partners and allies.
In the absence of diplomatic relations, Taiwan has received diminished time and attention in Washington. Over the past ten years, the White House has not viewed it as a priority to support Taiwan and advance the unofficial bilateral relationship. This has affected the way everyday Americans and Taiwanese have come to view each other. According to survey results reported by the Chicago Council on Global Affairs in 2014, only 28 percent of Americans would support sending U.S. troops to Taiwan in the event that the PRC invaded the island.[1] In sharp contrast, a 2016 poll in Taiwan indicated that over 70 percent of Taiwanese people believe that America would come to Taiwan's rescue in the event of a Chinese invasion. It can be interpreted that—in addition to having a case of 'war fatigue' from 13 years of on-going conflict in the Middle East—this perception gap may be the natural result of many Americans having limited understanding of the TRA and the political complexity of cross-Strait relations.
Following the recent Trump-Tsai phone call, the misinformed American media further demonstrated a lack of concern and understanding regarding the nuances surrounding U.S.-Taiwan and U.S.-China relations. More exchanges, not only on the governmental level but also on the educational level, will allow for more Americans to understand Taiwan and its people better. Currently, the United States is struggling to establish a proactive international education policy and failing to meet its goal of 1 million Americans studying abroad by 2017. New and creative exchanges with Taiwan will boost U.S. foreign policy and security goals, and ultimately garner more public support on both sides of the relationship for stronger U.S.-Taiwan cooperation.
Current Public Exchange Programs
Despite the fact that the U.S. and Taiwan both have visa waiver programs that contribute to tourism on both sides—which may see a record high of over 1 million visitors this year—these types of exchanges are mainly short and business-driven. Long-term exchanges that seek to deepen people-to-people relations must be pursued as well. On the U.S. side, government-sponsored public exchange initiatives that have a Taiwan component include a variety of programs funded by the U.S. Department of State (International Visitor Leadership Program, Fulbright, Critical Language Scholarship, National Security Language Initiative for Youth, Benjamin A. Gilman International Scholarship, etc.) and Boren awards for international study. The U.S. Department of Education also has 118 universities that offer the Foreign Language and Area Studies Fellowships (FLAS) to study abroad. Language exchange programs funded by nongovernmental organizations include the Blakemore and Freeman Foundations.
On the Taiwan side, the Ministry of Education (MOE) and the Ministry of Foreign Affairs (MOFA) provide generous scholarship opportunities for foreign nationals seeking language learning, degree programs, or research (Huayu Enrichment Scholarship, Taiwan Scholarship, and Taiwan Fellowship, respectively.) The Taiwan government also sponsors the Ambassador Summer Scholarship Program for the Taiwan-U.S. Alliance, known as TUSA, which is a non-profit organization that focuses on building international friendships on the student-to-student level. In 2014, MOFA launched an international youth leadership program called Mosaic Taiwan, which is committed to better informing future American leaders through a three-week program filled with workshops and seminars in Taiwan. Finally, a unique initiative is the Taiwan Tech Trek program, which recruits young people of Taiwanese ancestry for an eight-week summer internship or research program, allowing Taiwanese-Americans to learn about Taiwan and its well-known tech industries. These programs ultimately seek to promote and improve U.S.-Taiwan relations and counter China efforts to stop Taiwan from participating in the community of nations.
Challenges With Current Programs
The U.S.-Taiwan pursuit to seek partnerships through educational and cultural exchange programs is laudable. There are, however, significant challenges with U.S. programs, particularly with the International Leadership Visitor Program (IVLP), that inhibit more meaningful exchange. IVLP is a three-week tailored individual or group program sponsored by the State Department that brings mid-career professionals and emerging foreign leaders to the United States. Former presidents Ma Ying-jeou and Chen Shui-bian are both alumni of this program. These leaders are nominated by U.S. embassies overseas, and in this case the de facto embassy known as the American Institute in Taiwan (AIT), for meetings and opportunities to engage with Americans on global thematic issues. It is through collaboration with National Programming Agencies (NPA) that these projects are implemented. Due to fact that visits by Taiwanese officials in the U.S. are seen as highly political by Beijing (former President Lee Teng-hui's visit to Cornell in 1995 sparked the Third Taiwan Strait Missile Crisis), it is protocol that Taiwan government representatives are barred from entering the Harry S. Truman Building of State Department, the White House, and the Eisenhower Executive Office Building. Another caveat with the IVLP is the small amount of funding available for Taiwan, in comparison to China. According to State Department statistics, the FY2016 budget only allowed for 16 visitors from Taiwan, while China had 112. The small amount of attention given to Taiwan negatively impacts U.S.-Taiwan relations. More can be done to support exchanges on the government and professional levels.
In the educational realm, there are many U.S. exchange initiatives in place that give exposure to Taiwan. However, the amount of students that go to Taiwan pale in comparison to the number of those who go to the PRC. From statistics provided for the 2013-14 year, the Institute for International Education (which is an NPA) reported that 13,763 American students studied in the PRC, while only a diminutive 801 went to Taiwan. Many American students are naturally drawn to China's rich cultural heritage, strategic importance, and economic power (something which relates to future career prospects). However, U.S. policies and officially-expressed attitudes toward Taiwan and the PRC influence the choices made by young Americans as well. Many do not see value in learning traditional Chinese characters and view Taiwan as only a subsidiary to the PRC.
China Factor
The Chinese Communist Party (CCP) has worked hard to win the hearts and minds of the American people through its vigorous overseas propaganda efforts. Its Confucius Institutes are but one example. Confucius Institutes, which are operated under the PRC Ministry of Education, are an extension of the CCP. They have nearly 100 partnerships in the United States, with the stated goal of promoting Chinese language and culture. These institutes provide attractive financial packages to universities seeking Chinese language learning resources.[2] However, their programs engage in censorship and only allow for Party-approved rhetoric and policies to be heard. In 2014, the University of Chicago ended its partnership with the Confucius Institute due to concerns regarding censorship and limitations to academic freedom.
All American students deserve the right to freely discuss issues like the Tiananmen Square Massacre, U.S.-PRC relations, and the futures of Hong Kong, Tibet, and Taiwan. Yet, a Government Accountability Organization (GAO) report found that 12 overseas American universities in the PRC have challenges operating in a restrictive environment. Internet censorship and self-censorship are listed as two main problems. While Confucius Institutes offer generous funding to American educational institutions, the continuation of these engagements perpetuate the CCP's authoritarian interests and leads to further marginalization of Taiwan's influence in the world. While education initiatives between the U.S. and the PRC are important to the bilateral relationship, they tend to impact and diminish opportunities for greater American understanding of Taiwan. U.S. relations between the PRC and Taiwan should not be viewed in zero-sum terms, but the reality is that they are.
Recommendations: Innovative Exchanges To Strengthen U.S.-Taiwan People-to-People Relations
More innovative solutions are needed to re-emphasize the importance of people-to-people exchanges with Taiwan. The Taiwan Travel Act, proposed by Senator Marco Rubio (R-FL), calls for more exchange between Taiwanese and American leaders at all levels. This could alleviate the protocol challenges for Taiwanese visitors. Additionally, some bottom-up approaches are needed to tackle the challenge of current institutional practices in place that continue to discourage American students from pursuing Taiwan exchanges, including the student-run Taiwan-America Student Conference (TASC). The program, currently making plans for its fourth annual conference, was founded on the premise that American students need to think critically about the strategic and cultural value of Taiwan, and Taiwanese students need to think globally and address where they fit within the international community. Every year, students come together at TASC for dialogue and discussions on ways to confront global issues facing their respective societies. These include issues such as environmental sustainability and modern issues in education, among others. This is an excellent model for more future citizen diplomacy exchanges, given the aforementioned constraints.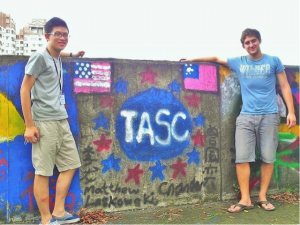 (Source: Taiwan-America Student Conference – Taiwanese and American students building mutual trust and understanding through an exchange program)
Another recommendation is the establishment of a foundation that seeks to strengthen U.S.-Taiwan educational and cultural exchanges, much like the U.S.-China Strong Foundation. The U.S.-China Strong Foundation is a nonprofit organization that seeks to strengthen U.S.-China relations by investing in the next generation of leaders. Its principal goals are to increase the number of American students in the PRC and to strengthen Chinese language learning opportunities in the United States. A U.S.-Taiwan Strong Foundation would be at the center of bilateral educational exchanges. It could house programs modeled off of TASC, establishing chapters in universities and high schools, and striving to increase the number of American students in Taiwan and vice versa.
Beijing's influence operations continue to drown out Taiwan's voice in the United States. Taiwan's democratic society is full of Chinese culture and increasingly diverse. The island nation is a paradigm of pro-American progressive values. When it comes to learning Mandarin, the PRC is far from the only option.  Defense Secretary Ashton Carter stated that a more inclusive security architecture is needed. Emphasizing Taiwan's role in Asia is smart policy. Advancing exchanges with Taiwan requires a willingness to employ all the available tools, especially the establishment of a new foundation dedicated to this mission. Doing so will add tremendous value to U.S. foreign policy and national security outcomes in the years ahead.
Sebra Yen is an Intern at the Project 2049 Institute. He is currently a Master's candidate at The Elliott School of International Affairs at The George Washington University, where he focuses on Taiwan and Asian politics and security.
[1] Americans Affirm Ties to Allies in Asia. The Chicago Council on Global Affairs. Pg. 2. October, 2014. <http://www.thechicagocouncil.org/sites/default/files/2014%20Chicago%20Council%20Survey%20-%20Asia%20Report.pdf>
[2] Soft Power in a Hard Place: China, Taiwan, Cross-Strait Relations and U.S. Policy. Pg. 510. Fall, 2010. 
<http://www.fpri.org/wp-content/uploads/2015/08/delisle.chinataiwan_01.pdf>