Events

Chairman Randall G. Schriver and Ambassador Ryozo Kato: Growing Indo-Pacific Security with a Deep-Rooted U.S.-Japan Alliance
March 30, 2022 @ 8:00 pm

-

9:00 pm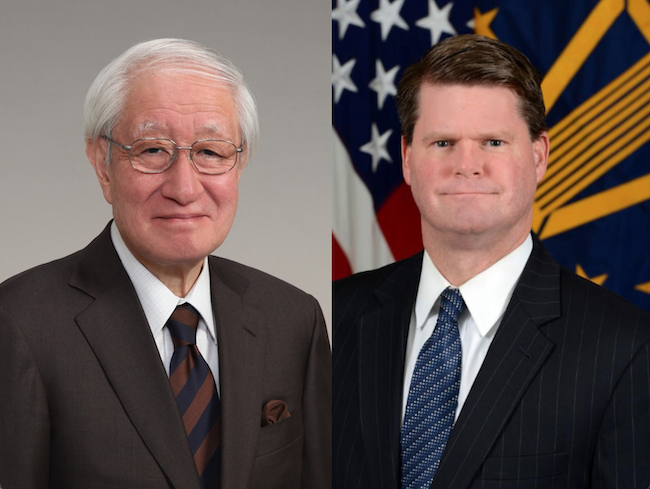 The Project 2049 Institute cordially invites you to the following conference:Â 
Wednesday, March 30th, 2022
8:00 pm – 9:00 pm
Location: Virtual
*****RSVP BELOW*****
(HOW TO PARTICIPATE: Viewers may join the LIVE Q&A session by submitting questions to ask@project2049.net throughout the event, or—if you have a YouTube account—by entering questions directly into the YouTube chat box on the event's YouTube page. PLEASE provide your name and affiliation when submitting questions.) You can register for the event at the bottom of the page. 
The challenges of a global pandemic, unprovoked invasions, and the continued rise of powerful, authoritarian, and nuclear-armed regimes have rocked the international community. Current events have left the world's political and thought-leaders with difficult decisions on how to navigate this tumultuous era. During this livestream event, Project 2049 Institute Chairman Randall Schriver will host a dialogue with former Ambassador of Japan to the United States Ryozo Kato to discuss how like-minded allies can succeed in this critical moment.
Ambassador Kato—as the longest-serving Japanese Ambassador to the U.S. in the Post-World War II era [2001-2008]—brings a distinguished career of insights on how to foster strong alliances and carefully manage challenges in the pursuit of a healthy Indo-Pacific. Addressing mutual threats to the United States and Japan requires both immediate short-term actions and a resilient long-term vision. We are honored to host Ambassador Kato in this "fireside chat" discussion to learn from his decades of experience and better understand how the U.S., Japan, and their allies and partners in the Indo-Pacific can work together to face and overcome challenges posed by today's agents of international destabilization, such as the Chinese Communist Party.

SCHEDULE & SPEAKERS
8:00 pm – 8:03 pm
Introduction
John Gastright Jr.
The Project 2049 Institute
8:03 pm – 8:40 pm
Chairman's Discussion with Ambassador Kato
The Honorable Randall G. Schriver
The Project 2049 Institute
Ambassador Ryozo Kato
Former Ambassador of Japan to the United States
8:40 pm – 9:00 pm
Live Q&A
This event will stream live.
Follow @Project2049 and #P2049Live on Twitter for more analysis.
RSVP directly on our website by scrolling and filling out the registration below!
*****RSVP BELOW*****