Events

"The Final Struggle: Inside China's Global Strategy" Book Launch Event
June 21, 2022 @ 10:00 am

-

11:00 am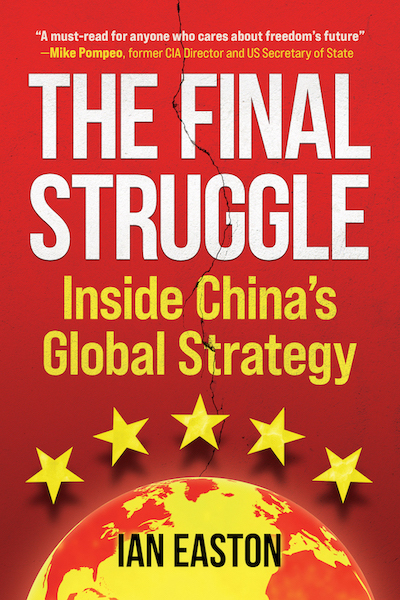 The Project 2049 Institute cordially invites you to the following conference:Â 
Tuesday, June 21st, 2022
10:00 am – 11:00 am
Location: Virtual
*****RSVP BELOW*****
(HOW TO PARTICIPATE: Viewers may join the LIVE Q&A session by submitting questions to ask@project2049.net throughout the event, or—if you have a YouTube account—by entering questions directly into the YouTube chat box on the event's YouTube page. PLEASE provide your name and affiliation when submitting questions.) You can register for the event at the bottom of the page. 
The Chinese Communist Party has a sinister secret and is hiding it in plain sight. Deeply researched and engagingly written, Ian Easton's latest book is an urgent call to understand Beijing's true intentions, and to act before it's too late.
Answering this urgent call to action, the Project 2049 Institute is pleased to invite you to a webinar launching The Final Struggle: Inside China's Global Strategy. Drawing from internal military documents and never-before-seen writings and speeches by Xi Jinping, Easton takes readers inside Beijing's shadowy halls of power to reveal the plans, intentions, and operations of the most powerful (and covert) political organization in the world.
During this livestream event, Project 2049 Institute Chairman Randy Schriver will deliver a brief keynote address about the book's message in the context of today's unique Indo-Pacific security challenges. Following the address, Easton will engage with a panel of distinguished experts to more deeply explore key findings.
———
"The supreme strategic challenge of our time is now clear. For the United States and our allies and friends, the People's Republic of China (PRC) is a threat like no other. Never before in modern times has a totalitarian one-party dictatorship exercised so much power and influence on the world stage. This book reveals the extent to which we need a rigorous examination of China's official plans and intentions." — Randall G. Schriver, Chairman and Founder of the Project 2049 Institute.

SCHEDULE & SPEAKERS
10:00 am – 10:03 am
Introduction
John Gastright Jr.
President | The Project 2049 Institute
10:03 am – 10:13 am
Keynote Address
The Honorable Randall G. Schriver
Chairman | The Project 2049 Institute
10:13 am – 10:45 am
Panelist Discussion with the Author
Jennifer Hong (Moderator)
Senior Director | The Project 2049 Institute 
Ian Easton
Senior Director | The Project 2049 Institute 
Dr. Jacqueline Deal
President & CEO | Long Term Strategy Group
10:45 am – 11:00 am
Live Q&A
This event will stream live.
Follow @Project2049 and #P2049Live on Twitter for more analysis.
RSVP directly on our website by scrolling and filling out the registration below!
*****CLICK HERE to RSVP, or use the link below*****
https://www.eventbrite.com/e/the-final-struggle-inside-chinas-global-strategy-book-launch-event-tickets-360482501867